Research
Team
Publications
More...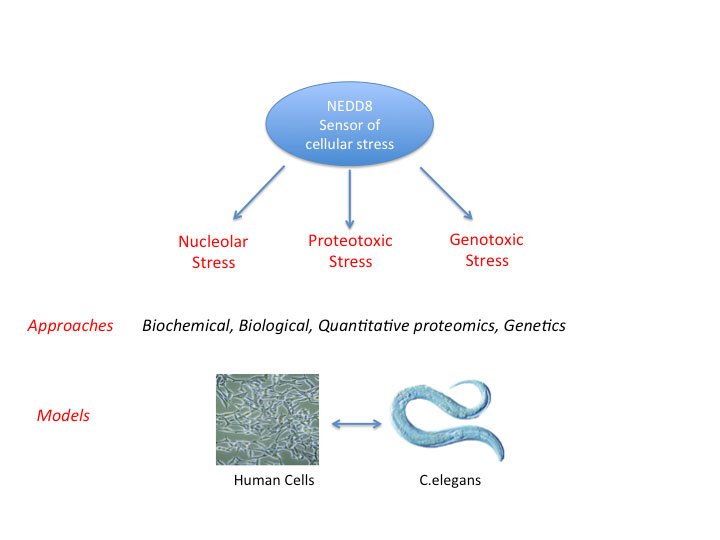 The role of ubiquitin and ubiquitin-like molecules in cellular stress responses
The family of ubiquitin and ubiquitin-like molecules (Ubls), such as SUMO and NEDD8, consists of small proteins that control almost every biological process, from protein destruction to regulation of transcription, subcellular localization, DNA repair, endocytosis, signal transduction and autophagy. This vast functional diversity is due to the ability of this family of proteins to covalently modify other proteins and alter their function. The importance of ubiquitin and Ubls is also highlighted by the fact that many compounds that target the ubiquitin pathway are in clinical trials or already used for cancer treatment. Therefore, it is critical to understand the role of these pathways in cell physiology and pathology.
Our research is focussed on NEDD8, which is important for cell viability, growth and development. Our goal is to identify NEDD8 targets and to understand how the NEDD8 pathway is controlled, especially in conditions of cellular stress. We combine biochemical, biological, quantitative proteomic and genetic approaches (C. elegans) to address these questions. As NEDD8 pathway inhibitors are currently tested in clinical trials for cancer treatment, our research will contribute towards optimization of their therapeutic use.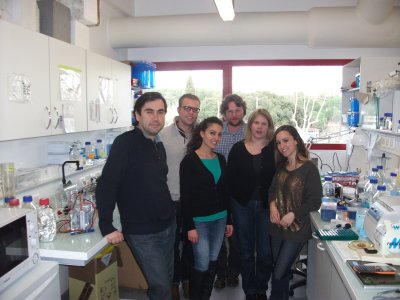 Contact our team
Replace the name and address below with that of the member to contact
firstname.name@crbm.cnrs.fr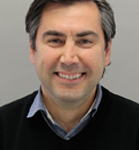 Dimitris Xirodimas
Members of the team
Aymeric BAILLY
(Staff Scientist) +33 (0)4 34 35 95 34
Lorene BRUNELLO
(PhD Student) +33 (0)4 34 35 95 34
Igor MESZKA
(PhD Student) +33 (0)4 34 35 95 34
Jolanta POLANOWSKA
(Staff Scientist) +33 (0)4 34 35 95 33
Rohit SHRIVASTAVA
(Post-Doc) +33 (0)4 34 35 95 34
Helene TRAUCHESSEC
(Research Assistant) +33 (0)4 34 35 95 33
Dimitris XIRODIMAS Group Leader
(Staff Scientist) +33 (0)4 34 35 95 33
NEDD8 as a sensor of cellular stress-cross-talk with the ubiquitin pathway
While many data are available on the role of NEDD8 in homeostatic conditions, through regulation of Cullin-Ring-Ligases and other targets, our knowledge on the NEDD8 pathway function in stress conditions remains very limited. Our previous work on the nucleolus, the centre for ribosome biogenesis, revealed one of the very first examples of how the NEDD8 pathway responds to cellular stress. By combining NEDD8 proteomics and studies in human cells and in C. elegans, we showed that NEDDylation controls the nucleolar proteome composition and that many ribosomal proteins (RPs) are direct NEDD8 targets (Xirodimas, 2008; Bailly et al., 2016). Upon DNA damage-induced nucleolar stress, NEDDylation of many RPs is decreased, allowing their localization to the nucleoplasm and activation of the p53 tumour suppressor (Sundqvist et al., 2009). Analysis of molecular events at the chromatin level shows that RPs are recruited at promoter sites of p53-regulated genes and promote the additional recruitment of p53 transcriptional co-activators (CBP/p300) (Mahata et al., 2012).
We recently revealed a more diverse response of the NEDD8 pathway in different stress conditions. Specifically, NEDDylation rapidly increases in response to inhibition of the 26S proteasome activity, heat shock and oxidative stress. However, stress-induced NEDD8 conjugation is mediated by enzymes of the ubiquitin rather than of the NEDD8 pathway. This was quite surprising, as it was widely believed that each conjugation pathway has its unique set of E1, E2 and E3 enzymes that lead to specific activation and conjugation of their cognate molecules. Thus, our findings define a new mode of protein NEDDylation in stress conditions. By developing proteomic approaches, we could demonstrate that substrate proteins are modified with poly-NEDD8 or mixed NEDD8-ubiquitin chains upon stress. These studies revealed a potential new role for NEDD8 as sensor of cellular stress and an unprecedented cross-talk between the NEDD8 and ubiquitin pathways in stress conditions (Leidecker et al., 2012).