Cellular adhesion processes play a key role in the interaction of each cell with neighboring cells and with the microenvironment. They involve complex dynamics of the cytoskeleton and cell membranes. Disruptions in adhesion processes are associated with pathologies including cancer and osteoporosis.
Our team studies the cellular and molecular mechanisms that control cell adhesion and, in particular, the dynamics of membranes and the cytoskeleton. Our work allows us to understand how deregulations of these mechanisms contribute to the development of human diseases, such as cancer and osteoporosis. We wish to initiate the development of new innovative therapies. Our main axes are: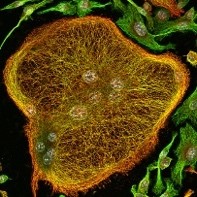 Cytoskeletal dynamics underlying the control of bone resorption
(More)
The cytoskeleton of the osteoclast, comprising in particular microtubules and actin filaments, has an essential role to ensure the adhesion of the cell to the bone and to maintain the bone resorption apparatus. This function is crucial to control osteoclast bone resorption activity, which is necessary to preserve bone health. Our recent work has shown that this cytoskeleton can also be used as a therapeutic target to prevent uncontrolled osteoclast activity, which is found in many metabolic, inflammatory or cancerous diseases. Our current work aims to understand how microtubules and actin filaments cooperate to ensure osteoclast adhesion to bone and to control its bone resorption activity.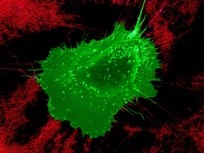 Flotillins and tumor invasion
(More)
Flotillins are proteins that are overexpressed in many cancers, which favors the invasiveness of tumor cells and is associated with a poor prognosis for patients. Functionally, flotillins are essential to control the membrane trafficking of key proteins in tumor development. Our recent work has shown that membrane receptor trafficking, between the plasma membrane and intracellular compartments, plays a key role in cell response to microenvironment and matrix signals. We are currently seeking to understand the molecular mechanisms by which flotillins control membrane trafficking and how their deregulation leads to aberrant signaling and disruption of cell adhesion, which together promote tumor invasion in different types of cancers.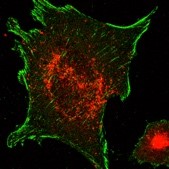 Cellular adhesion and bone formation
(More)
In particular, flotillins are involved in the formation of focal adhesions containing integrin b1 and in the recycling of this integrin. Integrin b1, a key player in cell response to mechanical signals, is essential for the formation and mineralization of bone matrix by osteoblasts. Our recent work has shown that integrin b1 controls vesicular trafficking in osteoblasts in response to matrix stiffness. Our current work focuses on the functional interaction mechanisms between integrin b1 and flotillins, and in particular their involvement in bone formation by osteoblasts.
To answer these questions we use different cell models: osteoblasts, osteoclasts, cells from various types of cancers (osteosarcoma, breast cancer…). We use different methodological approaches: advanced cellular imaging (live cell microscopy, electron microcopy, super resolution, optogenetics), in vivo models in mice or zebrafish and various techniques of genetic modification, biochemistry and cell signaling.
All these approaches allow us to address questions in fundamental cell biology with a focus on the understanding of human pathologies.
Funding
Ligue Nationale Contre le Cancer (Stéphane Bodin)
Fondation ARC EndoFloAXL (Stéphane Bodin)
ANR FLOTAKE (Cécile Gauthier-Rouvière)
Fondation ARC (Anne Blangy)
INCa (Cécile Gauthier-Rouvière)
Publications
2022
2021
2020
2019
2018
2017
2016
2015
2014
2013
2012
2011
2010
2009
2008
Cytoskeleton and membrane trafficking dynamics in cellular adhesion
Anne BLANGY & Cécile GAUTHIER-ROUVIÈRE
Group leaders (Researchers DR1)
Anne BLANGY Chef d'équipe
(Chercheur DR1) +33 (0)4 34 35 95 08
Stephane BODIN
(Maître de conférences) +33 (0)4 67 34 35 95 11
Guillaume BOMPARD
(Chercheur) +33 (0)4 34 35 95 07
Sylia CHEHADE
(Post-Doc) +33 (0)4 34 35 95 10
Cecile GAUTHIER-ROUVIERE Chef d'équipe
(Chercheur DR1) +33 (0)4 34 35 95 11
Layal RAJEH
(Doctorant) +33 (0)4 34 35 95 10
Virginie VIVES
(Maître de conférences) +33 (0)4 34 35 95 07
Contact us
Replace the name and address above with that of the member to contact
firstname.name@crbm.cnrs.fr