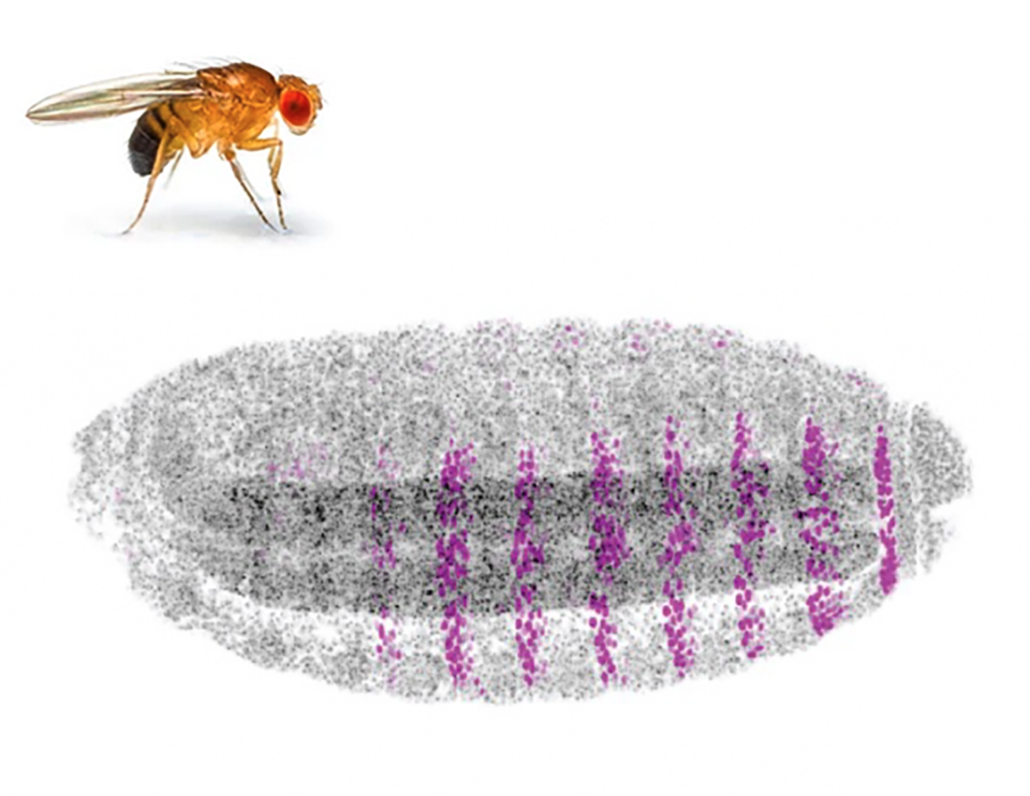 Embryo development is a non-equilibrium process exhibiting emergent behaviors—molecular interactions inside cells irreversibly pattern morphological changes on the animal body through regulating developmental genes. To initiate and control gene expression, transcription factors (TFs) must bind to enhancers and promoters. However, transient and low-affinity interactions between TFs and developmental enhancers appear to be prevalent and even necessary for regulatory specificity in animals ranging from nematodes to mammals. How could these weak interactions reliably produce the precise expression patterns that are necessary to control embryogenesis?

Using Drosophila melanogaster embryos, our work showed that TFs such as the Homeobox (Hox) factor Ultrabithorax (Ubx) coalesce into specialized sub-nuclear microenvironments around the developmental gene shavenbaby (svb). Multiple genes can share and reinforce the same environment, improving the robustness of gene expression and of phenotype development against environmental and genetic perturbations. Thus, the spatial organization of TFs and genes inside the nucleus could be a strategy to facilitate developmental robustness. However, little is known about the physical and interactional properties inside these environments. When do they form during embryogenesis? What determines their location and composition? What roles does the chromatin play? How do genes interact with microenvironments? How do they affect the behaviors of TFs?
To answer these questions, our group combines genetic tools available in Drosophila melanogaster with high- and super-resolution fluorescence imaging to investigate the interaction of genes and TFs in transcriptional microenvironments in the context of embryo development.
1) When do microenvironments form and how does nuclear organization guide cellular differentiation?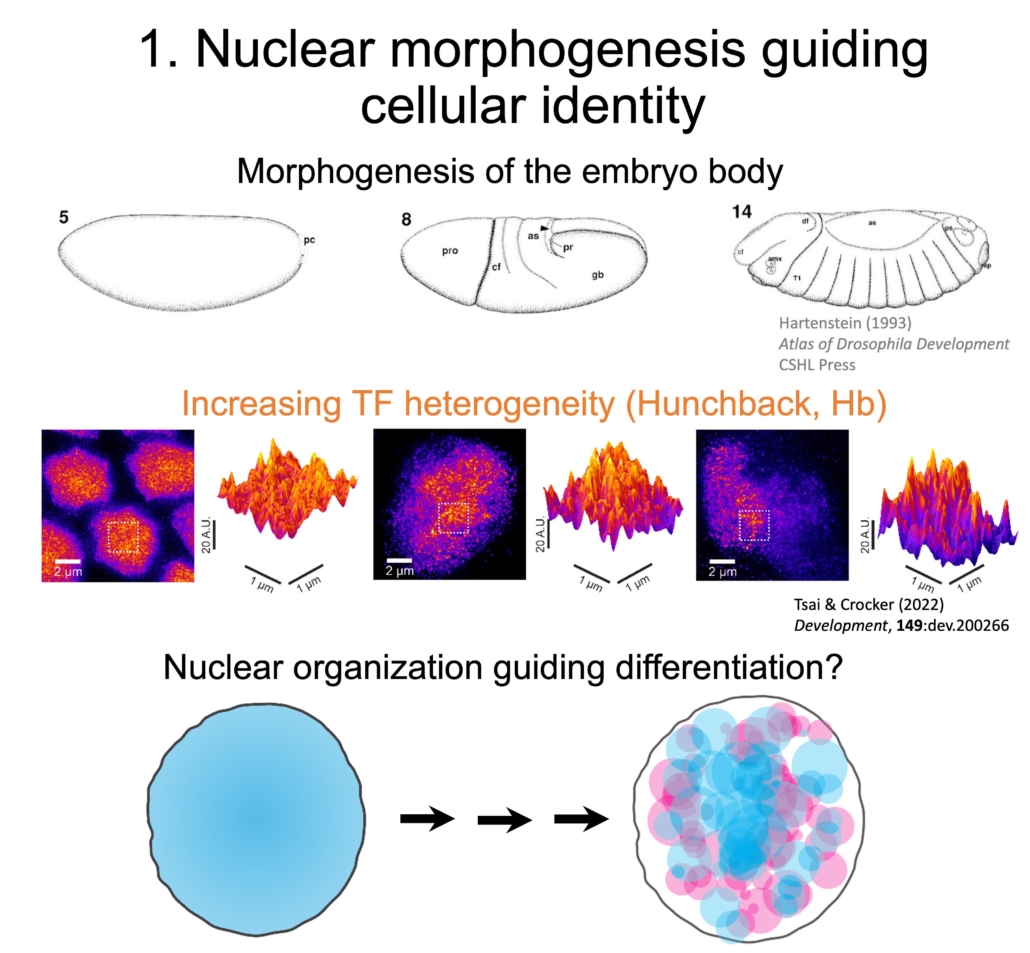 As the embryo matures, its body undergoes morphogenesis, which transforms a fertilized egg into a body with complex structures. We have observed the nuclear distributions of several TFs becoming increasingly heterogeneous during the same time frame. Histone modifications showed a similar increase in heterogeneity as development progresses. This suggests that the nuclear space also undergoes "morphogenesis" that partitions it into distinct compartments.
We are now observing different cell lineages across development to compare how the distributions of TFs and epigenetic marks in the nucleus may guide differentiation.
2) Can colocalization coordinate co-regulation of genes across transcriptional networks?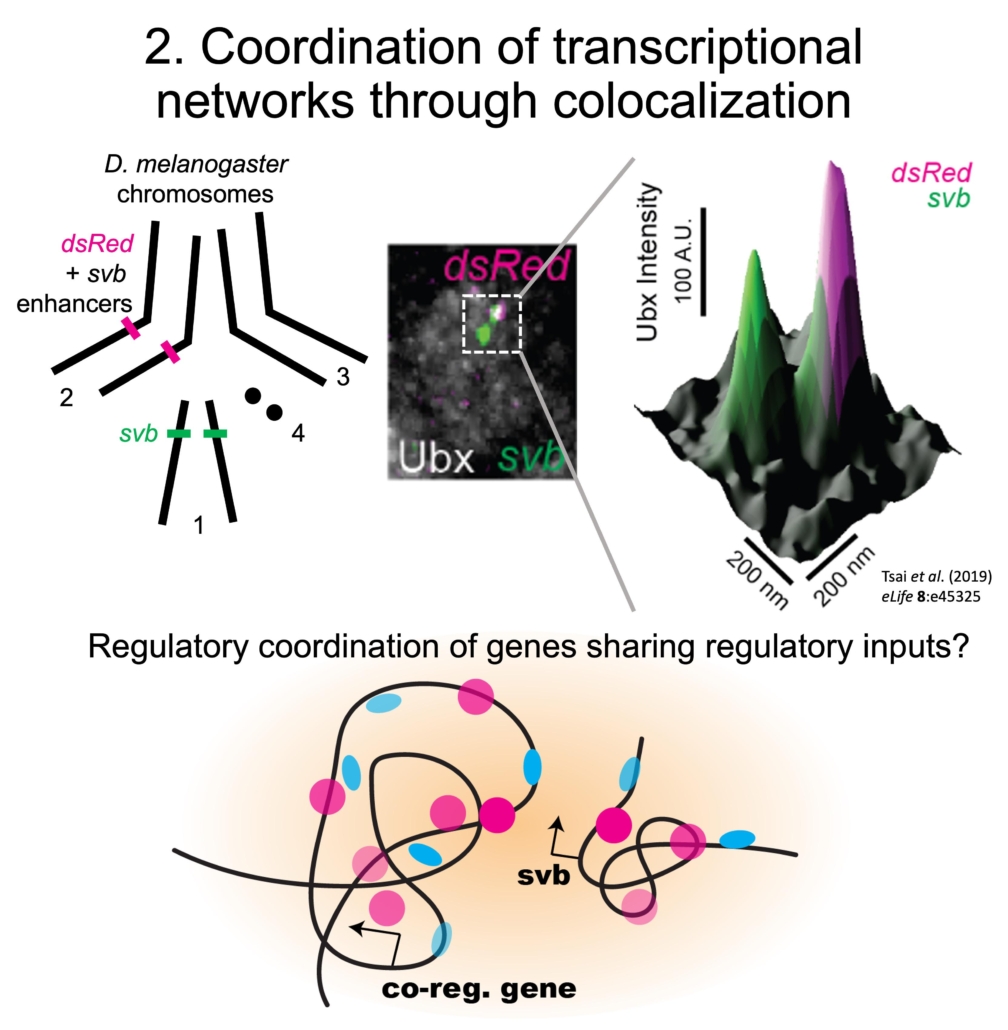 Transgenic transcription sites driven by svb enhancers colocalized with the endogenous svb locus and increased Ubx concentration and svb transcriptional output, ultimately rescuing the trichome phenotype in a fly line with a deficient svb locus. Thus, genes may utilize physical proximity in microenvironments to improve their regulatory coordination and robustness. However, it is not clear if physical proximity of genes and transcriptional activity are related and if colocalization occurs between other genes in transcriptional networks.
Thus, we are developing imaging tools in embryos to monitor the position and transcriptional state of genes to understand the spatial coordination of co-regulated genes in regulatory networks.
3) How do local interactions with proteins and the DNA alter the behaviors of TFs?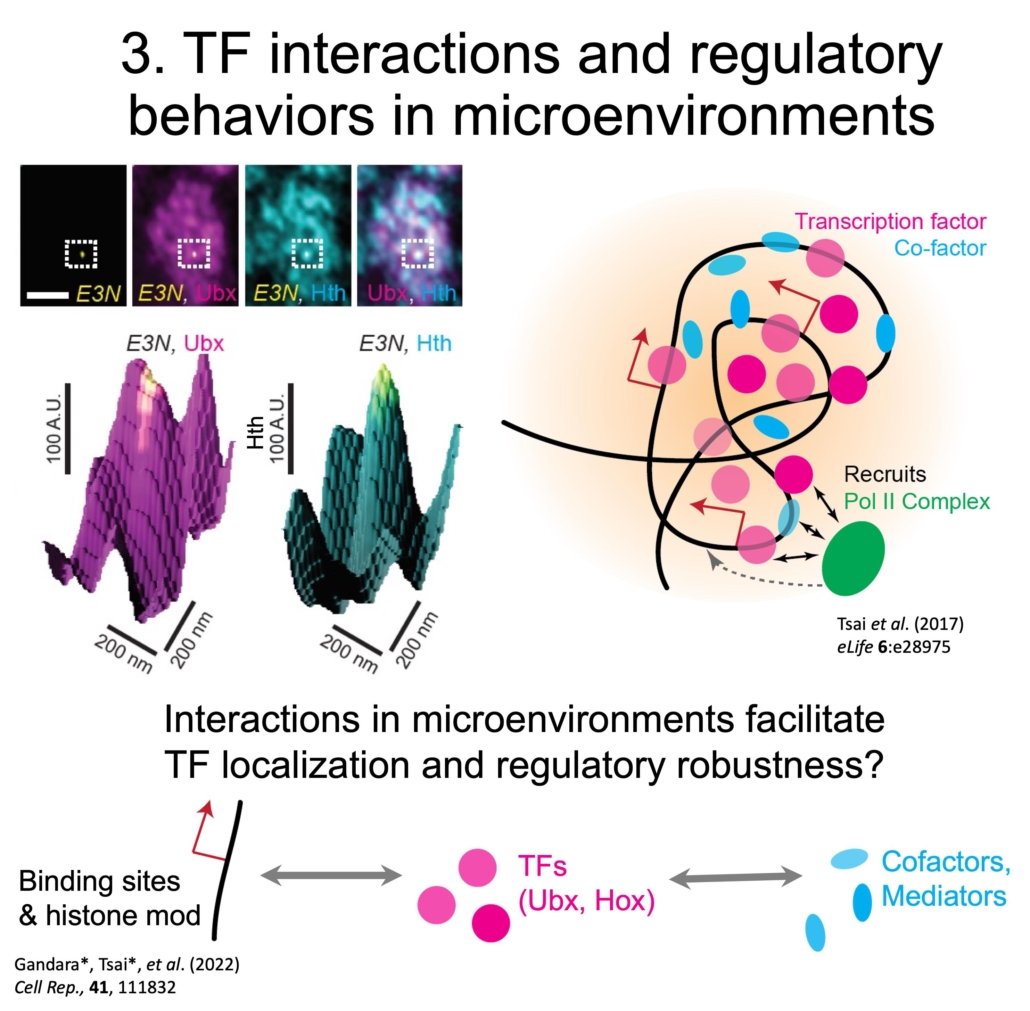 In general, TFs do not colocalize with each other and with markers for transcriptional activity, such as active (S5P) PolII. However, svb transcription sites tended to be enriched for both Ubx and a specific cofactor, Homothorax (Hth). This difference between the global and local overlap of different factors suggests that transcriptional microenvironments are formed using specific interactions. Interestingly, Ubx and its Hox family paralog AbdominalA (AbdA) did not colocalize, even though they have identical consensus DNA binding sequences. This suggests that interactions beyond DNA binding also tune the localization of TFs.
We are therefore tagging developmental TFs for live imaging experiments and modifying their interaction domains to understand how TFs localize and how their regulatory behaviors change based on local TF-DNA and TF-protein interactions in microenvironments.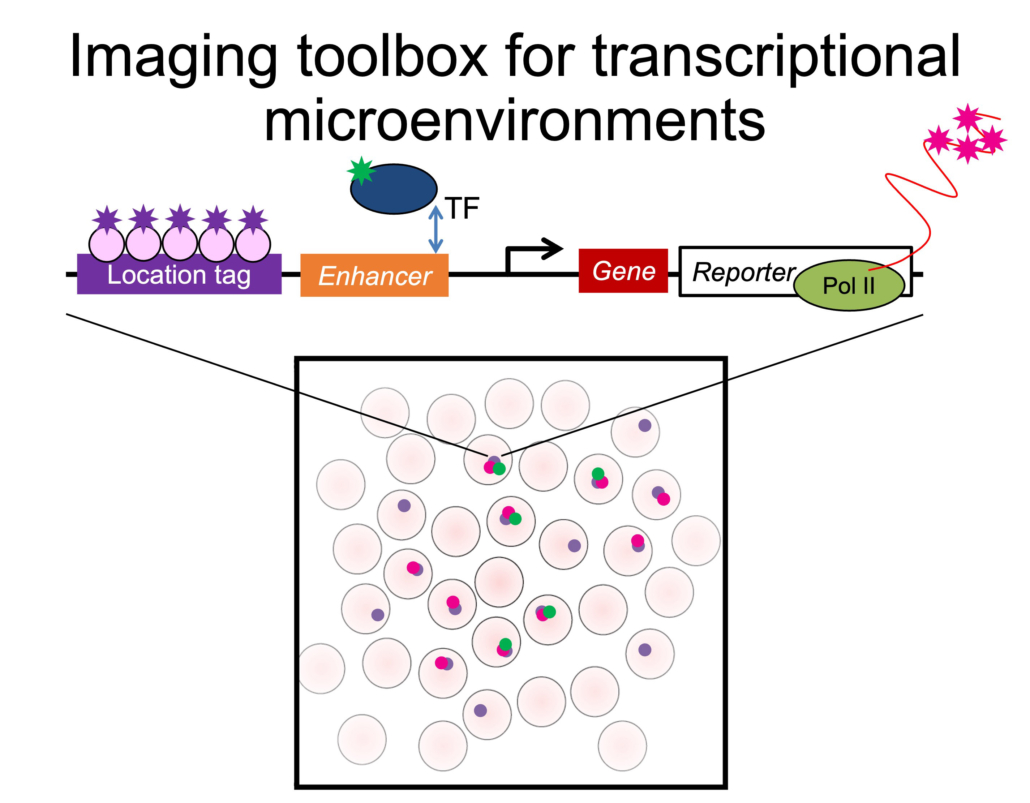 Publications
2022
2020
2019
2018
2017
2016
2015
2014
2013
2012
2011
Nuclear organization of transcription in embryos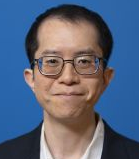 Albert TSAI
Group leader (CRCN CNRS)
Albert TSAI Chef d'équipe
(Chercheur CRCN) +33 (0)4 34 35 95 05
Amélie VIDAL
(IE-Recherche) +33 (0)4 34 35 95 79
Contact us
Replace the name and address below with that of the member to contact
Firstname.name@crbm.cnrs.fr