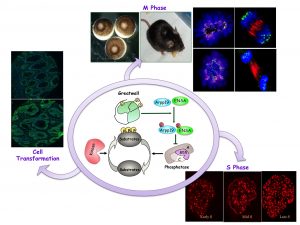 For several years, our laboratory has been interested in the mechanisms that control mitotic entry, progression and exit. The main aim of mitosis, a crucial phase of the cell cycle, is to assure equal chromosome segregation in divided cells. For that, an extensive number of mitotic regulators are activated, re-localized, modified, degraded… These modifications are under the control of several signalling pathways that modulate the different phases of mitosis. We focus our interest on the molecular mechanisms that control cell division. Notably, we are interested in the coordinated activation/inactivation of multiple kinases and phosphatases and their substrates that, together, ensure the correct implementation of mitosis and meiosis. Our recent results show that these mitotic regulators could also play a role in the control of other cell cycle phases or of other cell features, such as DNA replication or cell transformation.
Read more
The Greatwall/ARPP19-ENSA/PP2A-B55 pathway and the cell cycle.
Our laboratory studies the role of kinases and phosphatases in the regulation of mitotic entry and progression. Mitosis requires massive protein phosphorylation that is mostly promoted by the master kinase cyclin B-CDK1. Historically, it was assumed that protein phosphorylation in mitosis was under the control of cyclin B-CDK1 and that the phosphatase activity responsible of protein dephosphorylation was constant. For the first time, we demonstrated that like for the kinase activity, phosphatase activity is also modulated for correct mitosis. Our studies in Xenopus laevis egg extracts identified a new pathway that controls mitotic phosphatase activity and that includes the kinase Greatwall (GWL) and its substrates ARPP19 and ENSA. We showed that at mitotic entry, GWL is activated and phosphorylates ARPP19 and ENSA, thus promoting their binding to PP2A-B55 and the inhibition of this phosphatase. This leads to stable protein phosphorylation and mitotic entry. We then demonstrated that this pathway is conserved in human cells in culture. We are currently investigating the role of GWL/ARPP19-ENSA/PP2A-B55 in tissue homeostasis by using inducible knock out mouse models. Interestingly, besides the role in mitotic division, we demonstrated that this signalling pathway is also involved in other cell cycle phases. Specifically, our recent data show that this cascade contributes to the control of S phase, by regulating DNA replication dynamics. Finally, we identified GWL as a potent oncogene that promotes cell transformation by controlling AKT activity. Next, we will try to identify the mechanisms beneath the phenotypes observed in adult knock out mice and the pathway(s) responsible of GWL-dependent AKT regulation. Moreover, we will investigate the pathway by which GWL/ENSA/PP2A-B55 controls S phase and try to identify new GWL substrates.
Funding
Equipe labelisée Ligue Nationale Contre le Cancer
ANR KiARP (Thierry Lorca, Lionel Pintard)
ANR REPLIGREAT (Anna Castro, Lionel Pintard & Philippe Pasero)
ANR JCJC MTDISco (Benjamin Lacroix)
Université de Montpellier (Anna Castro)
FRM (Anna Castro)
Publications
2023
2022
2021
2020
2019
2018
2017
2016
2015
2014
2013
2012
2011
2010
2009
Phosphatases in cell cycle and signaling
Anna CASTRO & Thierry LORCA
Group leaders (Research Directors DR1)
Priya AMIN
(Post-Doc) +33 (0)4 34 35 95 57
Sushil AWAL
(Post-Doc) +33 (0)4 34 35 95 57
Celia BENCHOUG
(Doctorant) +33 (0)4 34 35 95 57
Sébastien CACCHIA
(AI-Recherche) +33 (0)4 34 35 9
Anna CASTRO Chef d'équipe
(Chercheur DR1) +33 (0)4 34 35 95 56
Jean claude LABBE
(Chercheur DR2) +33 (0)4 34 35 95 53
Benjamin LACROIX
(Chercheur) +33 (0)4 34 35 95 56
Thierry LORCA Chef d'équipe
(Chercheur DR1) +33 (0)4 34 35 95 56
Sylvia RASAMIZAFY
(Doctorant) +33 (0)4 34 35 95 57
Morgane ROBERT
(Doctorant) +33 (0)4 34 35 95 57
Sylvain ROQUE
(IE-Recherche) +33 (0)4 34 35 95 57
Suzanne VIGNERON
(IE-Recherche) +33 (0)4 34 35 95 56
Contact us
Replace the name and address above with that of the member to  contact
firstname.name@crbm.cnrs.fr