SUMMARY:
Neuronal connectivity is based on complex developmental processes, such as axon outgrowth and guidance, dendritic arborisation, and synaptogenesis. These processes rely on the coordination of actin cytoskeleton remodelling and microtubule dynamics. Rho GTPases are major players in neuronal morphogenesis because they control actin cytoskeleton remodelling. Our long-term interest is to understand how Rho GTPase signalling controls axon outgrowth and guidance as well as synaptogenesis. Disruption of these processes can lead to neurological diseases, such as schizophrenia, autism spectrum disorders (ASD) and intellectual disability (ID). Therefore, a better knowledge of these molecular mechanisms will improve the understanding and diagnosis of neurological diseases related to defects in these processes.
MAIN QUESTIONS:
We use different complementary biochemical and cell biology methods (e.g., live and high resolution fluorescence microscopy) and an integrated approach with transgenic mouse models to address the following questions:
What are the functions of Rho GTPase signalling components in axon outgrowth and in synaptogenesis?

How are these proteins regulated during these developmental processes?

How do these proteins contribute to the coordination between actin cytoskeleton remodelling and microtubule dynamics?

How can the deregulation of Rho GTPase signalling contribute to neurological diseases?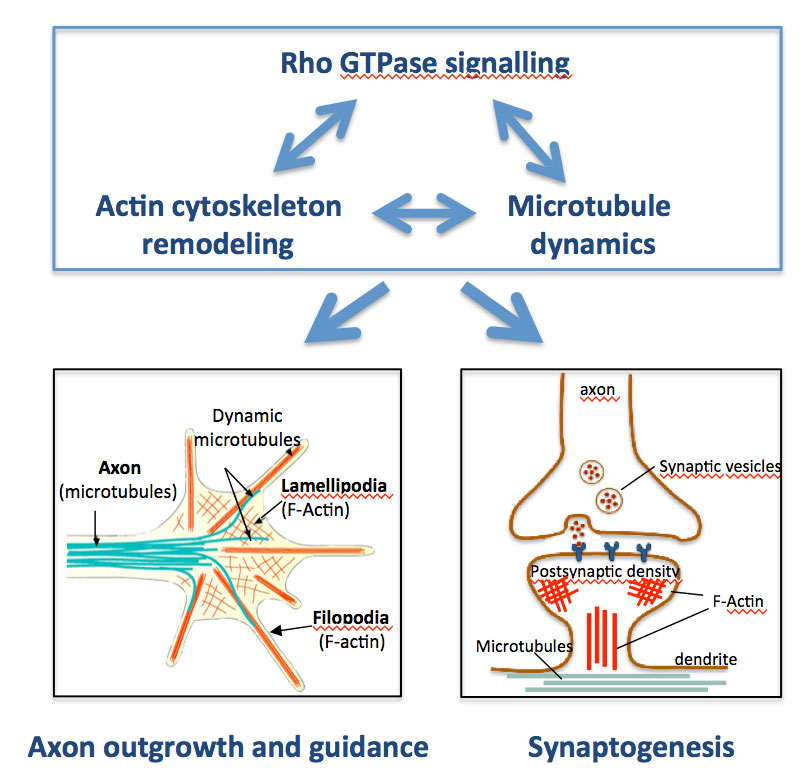 PROJECTS OF THE LABORATORY:
i) Rho GTPase signalling and axon outgrowth
GTPases of the Rho family are molecular switches that are activated by guanine nucleotide exchange factors (GEF) and inactivated by GTPase-activating proteins (GAP). We and others have shown that the Rho GEF Trio is a major regulator of cell migration and axon outgrowth by controlling actin cytoskeleton remodelling through the activation of the Rho GTPase Rac1. We have recently uncovered an unexpected physical link between Trio and proteins involved in the control of microtubule (MT) dynamics, and we have demonstrated that Trio ability to bind to MTs is essential for its function in axon outgrowth. Our current work aims at deciphering the molecular mechanisms underlying the interplay between Trio, actin cytoskeleton remodelling, and MT dynamics during axon outgrowth.
ii) Rho GTPase signalling and synaptogenesis
In addition to axon outgrowth, Rho GTPases also participate in the morphogenesis of dendritic spines that form and establish synaptic contacts during brain development. We have recently identified new members of the Rho GTPase signalling cascade that contribute to the formation of dendritic spines, including the Rho GEF DOCK10. We are now studying the molecular mechanisms by which these proteins control this process. In addition, we are testing whether disruption of the function of these proteins contributes to the development of neuronal disorders.
Financements
ANR HERC2-DOCKD-Modul (Suzanne Schmidt)
ANR TRIOTISM (Anne Debant)
Publications
2023
2020
2018
2017
2016
2015
2014
2013
2012
2011
2010
2009
2008
Signalling and cytoskeleton dynamics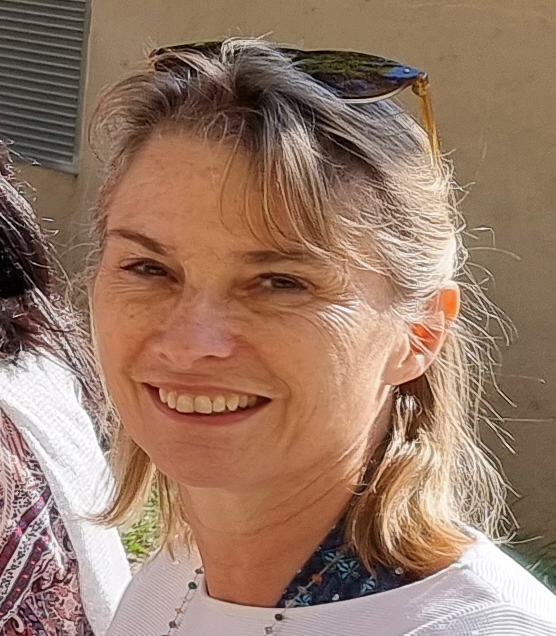 Anne DEBANT
Group leader (Research Director DR1)
Jerome BOUDEAU
(CRCN) +33 (0)4 34 35 95 16
Franck COMUNALE
(IR-Recherche) +33 (0)4 34 35 95 16
Anne DEBANT Chef d'équipe
(Chercheur DR1) +33 (0)4 34 35 95 04
Arpoudamarie ROC
(IE-Recherche) +33 (0)4 34 35 95 16
Susanne SCHMIDT
(CRCN) +33 (0)4 34 35 95 16
Contact us
Replace the name and address above with that of the member to contact
firtsname.name@crbm.cnrs.fr