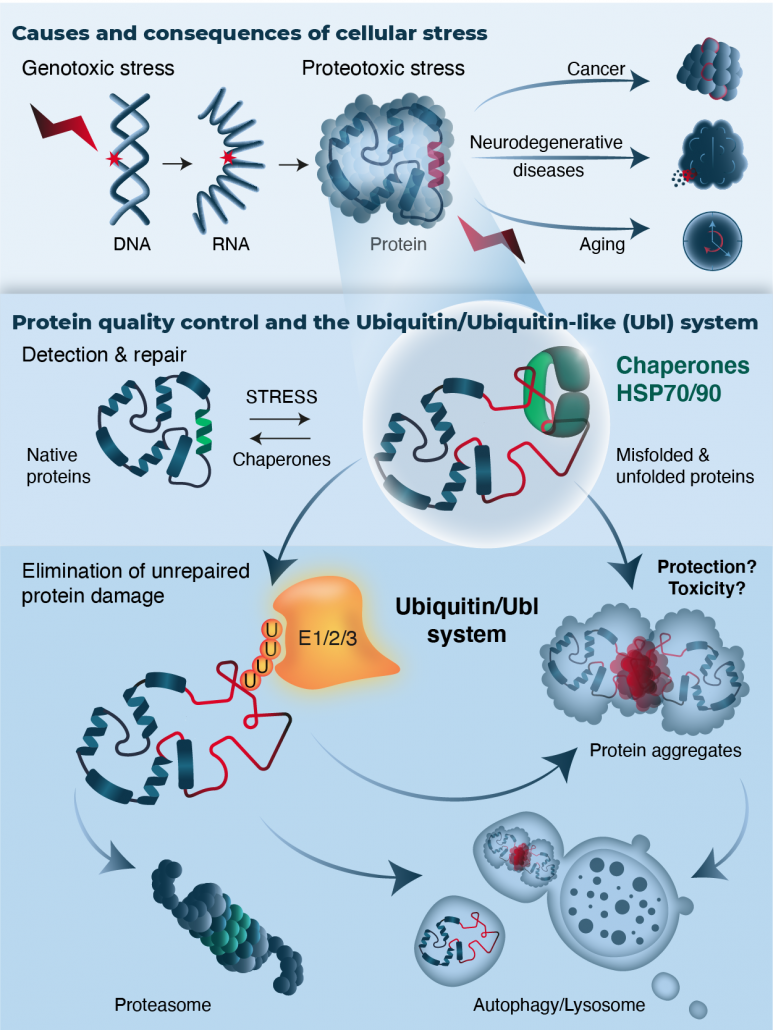 The Protein Quality Control (PQC) system
Understanding how organisms respond to environmental stress has critical implications both on quality of life and treatment of diseases. Maintaining a functioning proteome is challenging for cells given the variety of proteotoxic stresses (exposure to chemicals, elevated temperature, oxidative species) that constantly cause protein damage.
Misfolded proteins are deleterious to the cell and this is due either to the loss of their function and/or to their ability to form insoluble aggregates. The generation of aberrant protein aggregates is seen during ageing and has been associated with multiple pathologies known as "conformational disorders". These include lysosomal storage diseases, cystic fibrosis, cancer and many neurodegenerative diseases such as Alzheimer, Huntington's, Parkinson's, Amyotrophic Lateral Sclerosis (ALS).
The maintenance of a healthy proteome (proteostasis) is thus one of the biggest challenges that cells encounter. To counteract and prevent protein misfolding/aggregation, cells have evolved a Protein Quality Control (PQC) network, which is based on molecular chaperones and proteolytic machineries (26S proteasome, lysosomal pathway) that cooperate to maintain proteostasis and thus cellular fitness. The system ensures protein repair and refolding or clearance of terminally damaged proteins.
An integral part of the PQC network is the spatial management of misfolded proteins in the cytoplasm and the nucleus. The sequestration of misfolded proteins to particular subcellular compartments facilitates the removal of damaged proteins. This potentially assists in cell recovery once the stress is alleviated.
Ubiquitin and Ubiquitin-like molecules as key regulators of the PQC system
The family of Ubiquitin and Ubiquitin-like molecules (Ubls) such as SUMO and NEDD8, play a critical role in all aspects of the PQC system. The elimination of most aberrant proteins is mediated by the Ubiquitin Proteasome System (UPS) where proteins are marked for degradation via the "Ubiquitination process". The family of Ubls emerge as important regulators of Ubiquitin signalling and of the PQC system.
Our studies have revealed distinct roles for the Ubiquitin-like molecule NEDD8 as sensor of proteotoxic stress. In particular, we defined the formation of poly-NEDD8 chains and hybrid NEDD8-Ubiquitin chains as molecular signals that specifically operate in the cytoplasm and the nucleus respectively to control the formation of protein inclusions. Our goal is to decipher the role of NEDD8 as regulator of degradation of misfolded proteins and formation of protein aggregates. We combine biochemical, biological, live-imaging, quantitative proteomics in human cells and C.elegans to address the above biological questions. As the NEDD8 pathway is a promising therapeutic target, we envision our studies will reveal strategies for the use of NEDD8 inhibitors in the clinic and potentially to identify new targets within the PQC system for therapeutic intervention.
Funding
ANR PROCONUC (Dimitris Xirodimas)
Publications
2023
2022
2021
2020
2019
2018
2017
2016
2015
2013
2012
2011
2010
2009
2008
Ubiquitin/Ubiquitin-like molecules and Protein Quality Control
Dimitris XIRODIMAS
Group Leader (Research Director DR2)
Aymeric BAILLY
(CRCN) +33 (0)4 34 35 95 34
Léo LE TAREAU
(Doctorant) +33 (0)4 34 35 95 33
Jolanta POLANOWSKA
(CRCN) +33 (0)4 34 35 95 33
Rohit SHRIVASTAVA
(Post-Doc) +33 (0)4 34 35 95 34
Helene TRAUCHESSEC
(AI-Recherche) +33 (0)4 34 35 95 33
Dimitris XIRODIMAS Chef d'équipe
(Chercheur DR2) +33 (0)4 34 35 95 33
Contact us
Replace the name and address below with that of the member to contact
Firstname.name@crbm.cnrs.fr