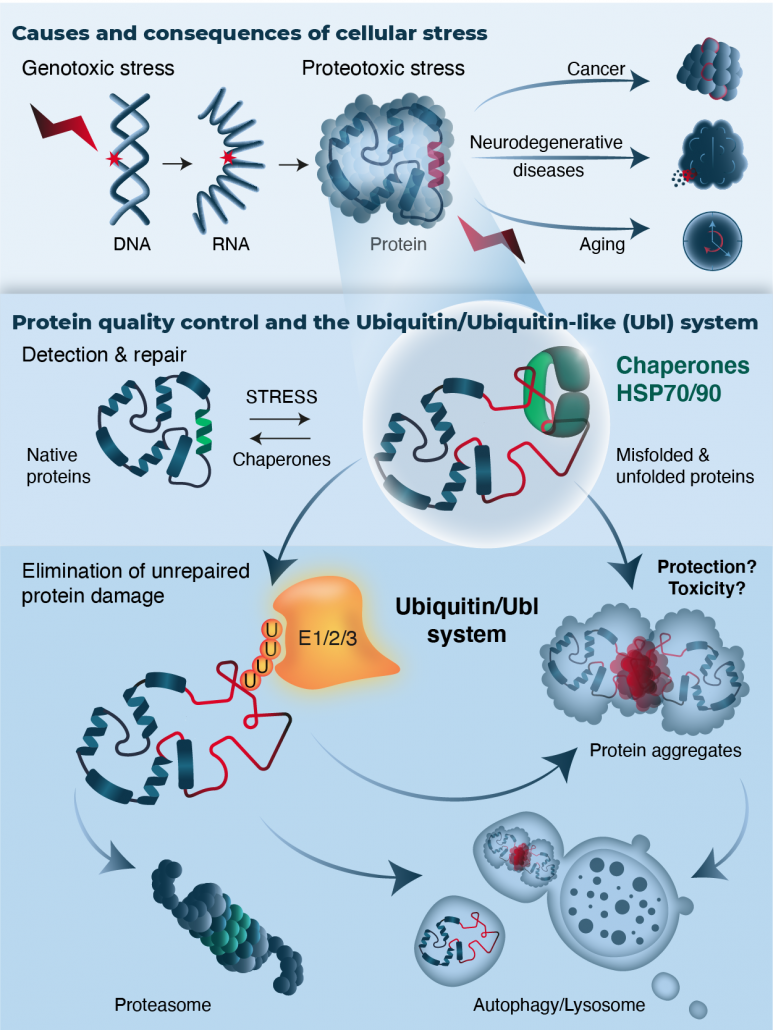 The role of ubiquitin and ubiquitin-like molecules in cellular stress responses
The family of ubiquitin and ubiquitin-like molecules (Ubls), such as SUMO and NEDD8, consists of small proteins that control almost every biological process, from protein destruction to regulation of transcription, subcellular localization, DNA repair, endocytosis, signal transduction and autophagy. This vast functional diversity is due to the ability of this family of proteins to covalently modify other proteins and alter their function. The importance of ubiquitin and Ubls is also highlighted by the fact that many compounds that target the ubiquitin pathway are in clinical trials or already used for cancer treatment. Therefore, it is critical to understand the role of these pathways in cell physiology and pathology.
Our research is focussed on NEDD8, which is important for cell viability, growth and development. Our goal is to identify NEDD8 targets and to understand how the NEDD8 pathway is controlled, especially in conditions of cellular stress. We combine biochemical, biological, quantitative proteomic and genetic approaches (C. elegans) to address these questions. As NEDD8 pathway inhibitors are currently tested in clinical trials for cancer treatment, our research will contribute towards optimization of their therapeutic use.
Funding
ANR PROCONUC (Dimitris Xirodimas)
Publications
2021
2020
2019
2018
2017
2016
2015
2013
2012
2011
2010
2009
2008
Ubiquitin/Ubiquitin-like molecules and Protein Quality Control
Dimitris XIRODIMAS
Group Leader (Research Director DR2)
Aymeric BAILLY
(CRCN) +33 (0)4 34 35 95 34
Léo LE TAREAU Autre
(Doctorant) +33 (0)4 34 35 95 33
Yousra MEBARKI Autre
(Stagiaire) +33 (0)4 34 35 95 33
Jolanta POLANOWSKA
(CRCN) +33 (0)4 34 35 95 33
Rohit SHRIVASTAVA
(Post-Doc) +33 (0)4 34 35 95 34
Helene TRAUCHESSEC
(AI-Recherche) +33 (0)4 34 35 95 33
Dimitris XIRODIMAS Chef d'équipe
(Chercheur DR2) +33 (0)4 34 35 95 33
Contact us
Replace the name and address below with that of the member to contact
Firstname.name@crbm.cnrs.fr