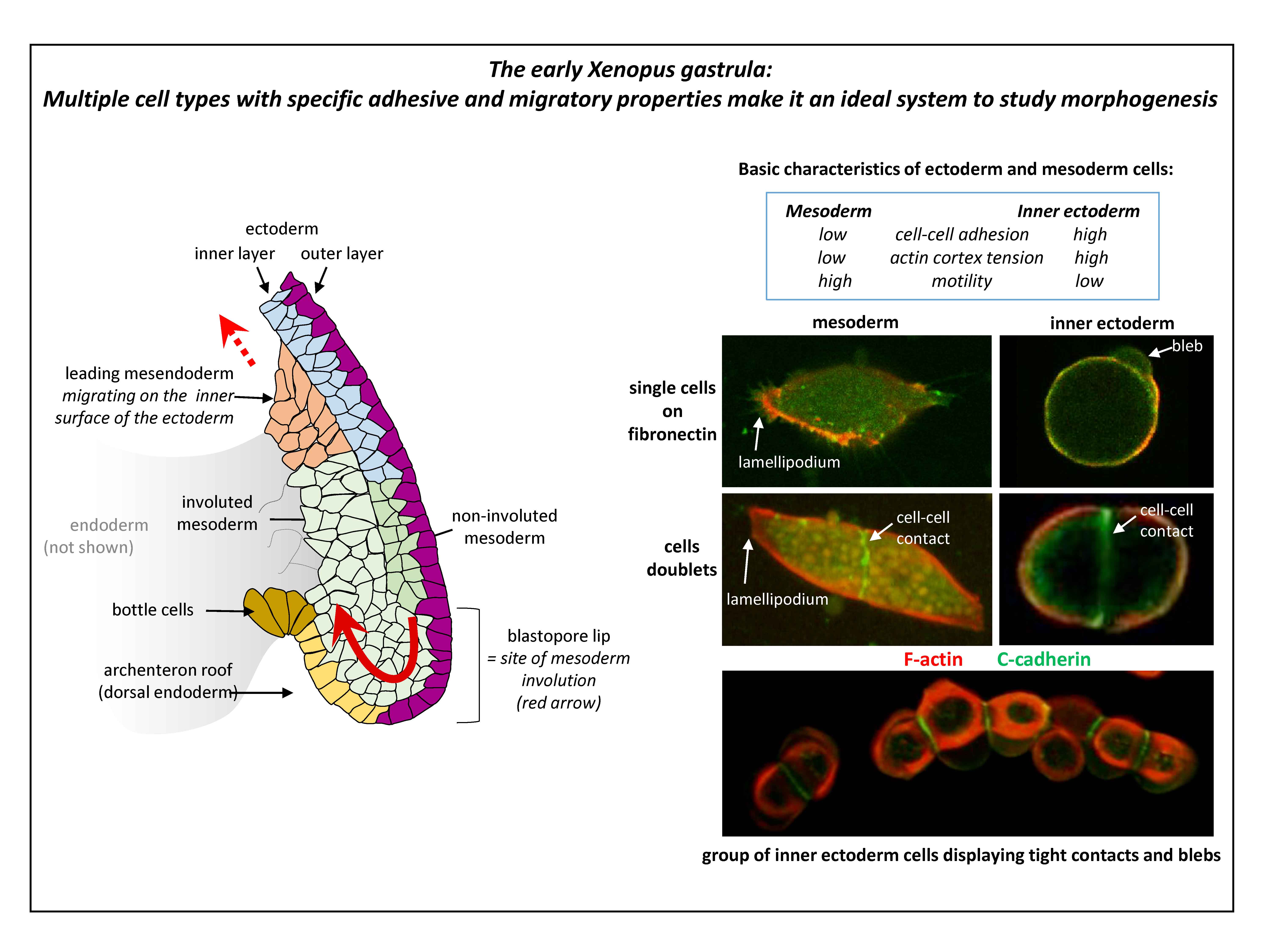 Morphogenesis: cellular mechanisms that control cell-cell adhesion and cell migration during Xenopus laevis gastrulation
A fundamental property of animal and human cells is their ability to adhere to each other, which allows them to assemble into tissues and organs. The assembly of these multicellular structures during embryo development involves highly dynamic changes in cell-cell adhesion and cell migration that appear to rely on remodelling of the actin cytoskeleton and of its links with adhesion molecules. Our goal is to understand the cellular and molecular mechanisms underlying such remodelling events. We also study cell surface receptors that modulate cell adhesion and migration in response to direct contact with adjacent cells. We address these questions with a combination of live imaging, molecular biology, biochemical, biophysical and functional assays, as well as computer modelling.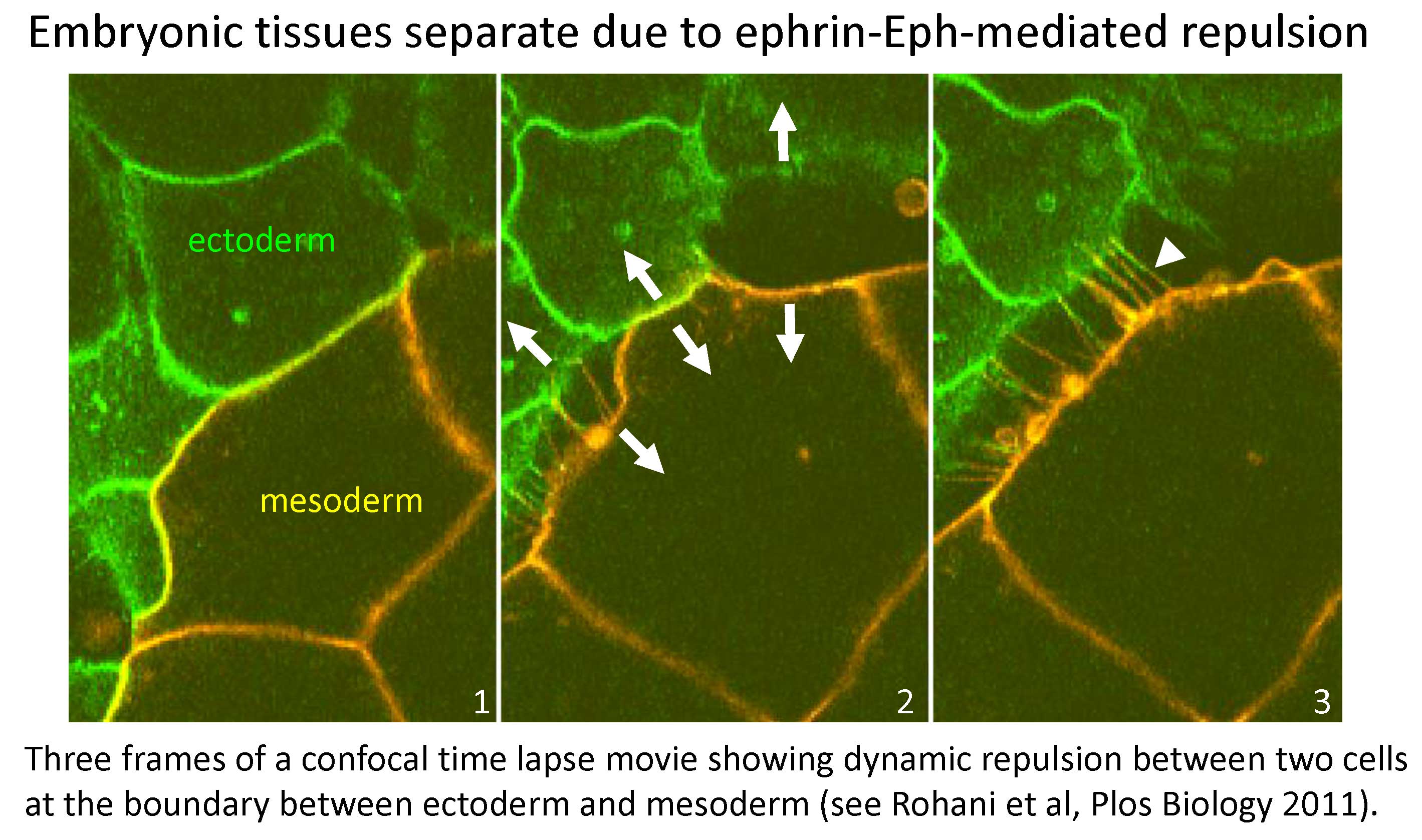 Projects:
1) The answer to an old question: how are cells "sorted" to form separate tissues?
In recent years we have studied the formation of embryonic boundaries that delimit the newly formed tissues and prevent them to mix. This phenomenon, which is absolutely essential for proper development, was discovered almost a century ago, but until recently its cellular and molecular bases have remained unclear and highly controversial.
We found that this delimitation process largely relies on repulsive surface cues. Multiple members of the ephrin (Eph) and Eph receptor families act as a "tissue identity codes" that trigger local repulsive reactions at contacts between cells of two different types (for example, ectoderm and mesoderm, or later during gastrulation between dorsal axial and paraxial mesoderm).
2) Intercellular migration
Unlike single-cell migration on an extracellular matrix, cell migration within a tissue is poorly understood. We want to determine how cell-cell adhesion structures are dynamically remodelled during cell migration. We also investigate the regulatory mechanisms that regulate high or low cell motility within different tissues, particularly during gastrulation.
3) EpCAM, a pro-adhesive and pro-migratory cell-cell contact receptor
EpCAM is a tumour-associated protein and a well-known malignancy marker in carcinoma. It was long believed to be an adhesion molecule, but we have discovered that it controls cell adhesion and migration by an unconventional mechanism: it binds directly to and inhibits kinases of the protein kinase C (PKC) family that indirectly regulate contractility of cortical actomyosin. Further studies on EpCAM function and regulation will have a major impact on our understanding of its role in morphogenesis, tissue homeostasis, cancer development and metastasis formation.
Funding
ANR Inter-s-cal (François Fagotto)
Publications
2023
2022
2021
2018
2017
2015
2014
2013
2012
2011
2010
2008
Cell adhesion and migration in embryonic development

François FAGOTTO
Chef d'équipe (Professeur)
Guillaume DESGARCEAUX
(Doctorant) +33 (0)4 34 35 95 25
Francois FAGOTTO Chef d'équipe
(Professeur) +33 (0)4 34 35 95 28
Christine FAGOTTO-KAUFMANN
(IE-Recherche) +33 (0)4 34 35 95 28
Artur RUPPEL
(Chercheur) +33 (0)4 34 35 95 28
Contact us
Replace the name and address below with that of the member to contact
firstname.name@crbm.cnrs.fr