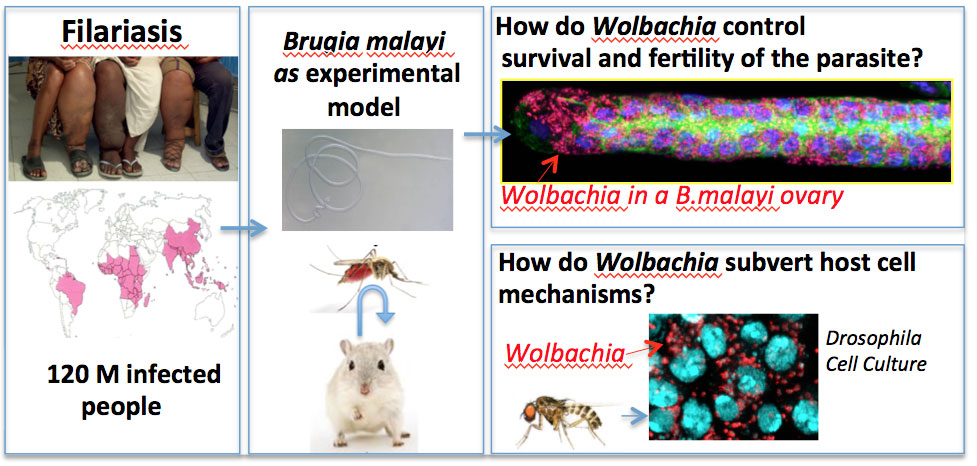 From nematodes to insects…
Wolbachia are widespread bacteria in nature. They live in symbiosis with an amazing diversity of arthropod species, and are also hosted by parasitic filarial nematodes. These bacteria have the amazing peculiarity of being transmitted by the host female germ line to the offspring, like mitochondria. As Wolbachia can affect the biology of their hosts, which can be disease vectors (for instance, mosquitos or human parasites), they are of utmost biomedical relevance. Filariasis is a highly debilitating vector-borne disease that affects over 120 million people in tropical areas. It is caused by parasitic nematodes that live in mutualism with Wolbachia. Without their symbionts, these worms become sterile and quickly die. Therefore, Wolbachia is a promising drug target. We study the cellular and molecular mechanisms underlying the symbiosis with Wolbachia in nematodes and insects. To this aim, we develop new techniques of observation and investigation, especially for filarial nematodes.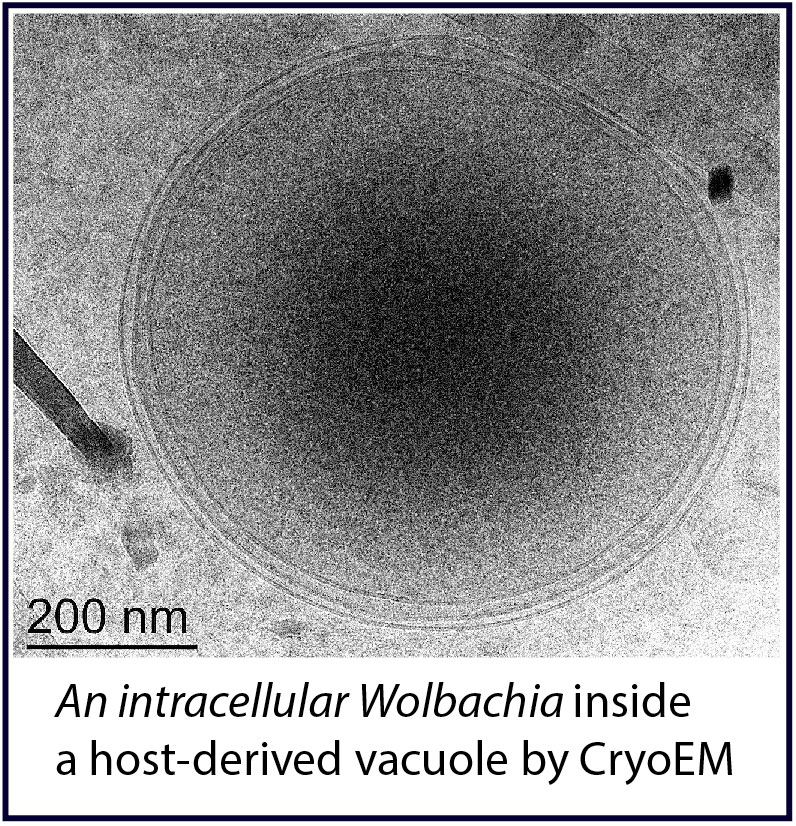 Outstanding questions:
We use a multispecies approach to address key issues:
What are the transmission mechanisms of Wolbachia, within an organism (from the zygote to the adult germline), and within an insect population?
Why are Wolbachia required for the survival and fertility of the filarial species they colonize?
How do Wolbachia subvert the host cell machinery to establish and maintain their intracellular lifestyle?
Models we use:
To address these questions, we use the natural hosts of Wolbachia as experimental models, such as Brugia malayi (the causative agent of elephantiasis) and other filarial nematodes species, as well as the Drosophila fly and the Culex pipens mosquito.
En savoir plus
Wolbachia et les parasites filaires.
Chez l'homme, les parasites filaires sont responsables de maladies tropicales négligées touchant plus de 120 millions d'individus, les filarde graves maladies handicapantes telles que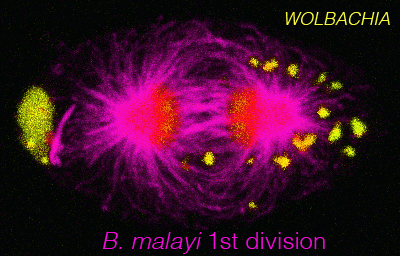 l'éléphantiasis (filariose lymphatique) ou la cécité des rivières (onchocercose). Les endosymbiotes Wolbachia sont nécessaires à la fécondité et la survie des adultes filaires, et ces mêmes bactéries jouent un rôle crucial dans le développement des pathologies lorsqu'elles sont libérées dans le corps humain pendant la dégradation des larves mortes. Aussi les Wolbachia sont-elles devenues de nouvelles cibles thérapeutiques dans la lutte contre ces parasites humains, aucun des traitements antiparasitaires disponibles ne venant à bout des formes adultes dont la durée de vie dépasse les 10 ans, et dont les femelles relarguent chaque jour des centaines de larves.
Pendant l'embryogenèse de Brugia malayi, un des agents responsable de l'éléphantiasis, les Wolbachia ségrégent asymétriquement dès la première division, pour envahir uniquement certains précurseurs de l'hypoderme. A partir de l'hypoderme de l'adulte juvénile, un tropisme ovarien permet la colonisation par Wolbachia des cellules germinales.
Nous étudions les bases cellulaires et moléculaires de cette transmission.
L'incompatibilité cytoplasmique.
Les Wolbachia peuvent être également naturellement présentes chez les mouches drosophiles et chez les moustiques. Dans les deux cas, elles ne sont pas essentielles à la survie de leur hôte, et donc en manipulent la reproduction afin d'assurer leur transmission. Par une complexe stratégie qui élimine la descendance des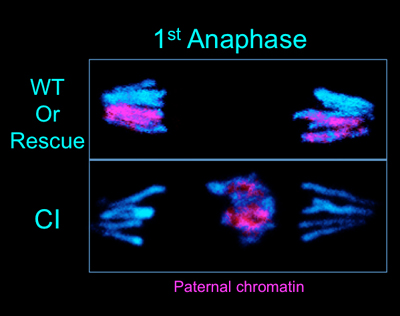 femelles non infectées fécondées par des males infectés (une voie sans issue pour des bactéries transmises maternellement), les femelles et leur descendances infectées se retrouvent avantagées. Cette stratégie appelée Incompatibilité Cytoplasmique (CI) est la plus communément employée par les Wolbachia pour envahir une population d'insectes.
Au cours du CI, le sperme issu d'un male infecté par Wolbachia ne conduit pas à un développement normal après fécondation d'un œuf non infecté. Dès la première mitose zygotique, la chromatine paternelle qui présente des défauts de remodelage est incapable de se condenser et de ségréger normalement, conduisant à un développement aneuploïde ou haploïde létal chez la mouche comme le moustique.
Nous étudions les bases moléculaires du CI, afin de comprendre comment les Wolbachia modifient le sperme, et comment leur présence dans l'œuf restaure un développement normal.
Financements
ANR (Frédéric Landmann)
FRM (Frédéric Landmann)
Publications
2023
2022
2021
2019
2018
2016
2014
2013
2012
2011
2010
2009
2008
Mechanisms of symbiosis with Wolbachia

Frédéric Landmann
Group Leader (Research Director DR2)
Iliana BOUSSOU
(IE-Recherche) +33 (0)4 34 35 95 66
Arame FALL
(IE-Recherche) +33 (0)4 34 35 95 66
Frederic LANDMANN Chef d'équipe
(Chercheur DR2) +33 (0)4 34 35 95 65
Julien PLISSON
(IE-Recherche) +33 (0)4 34 35 95 65
Kevin TERRETAZ
(IE-Recherche) +33 (0)4 34 35 95 66
Contact us
Replace the name and address below with that of the member to contact
firstname.name@crbm.cnrs.fr