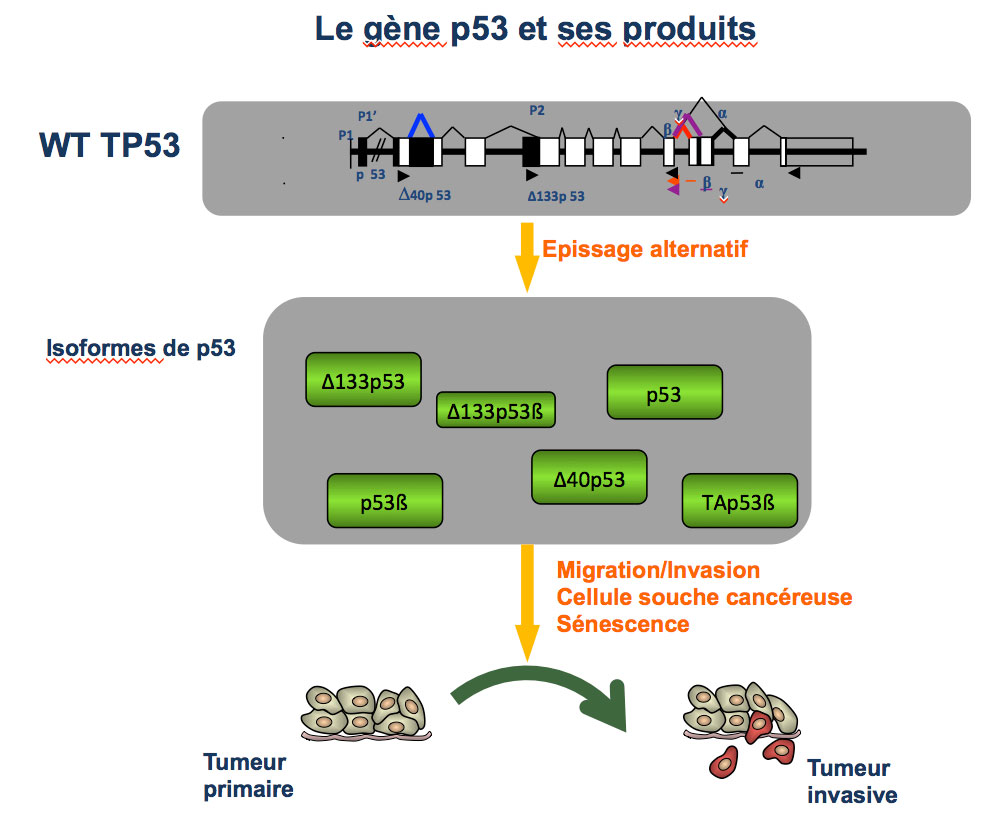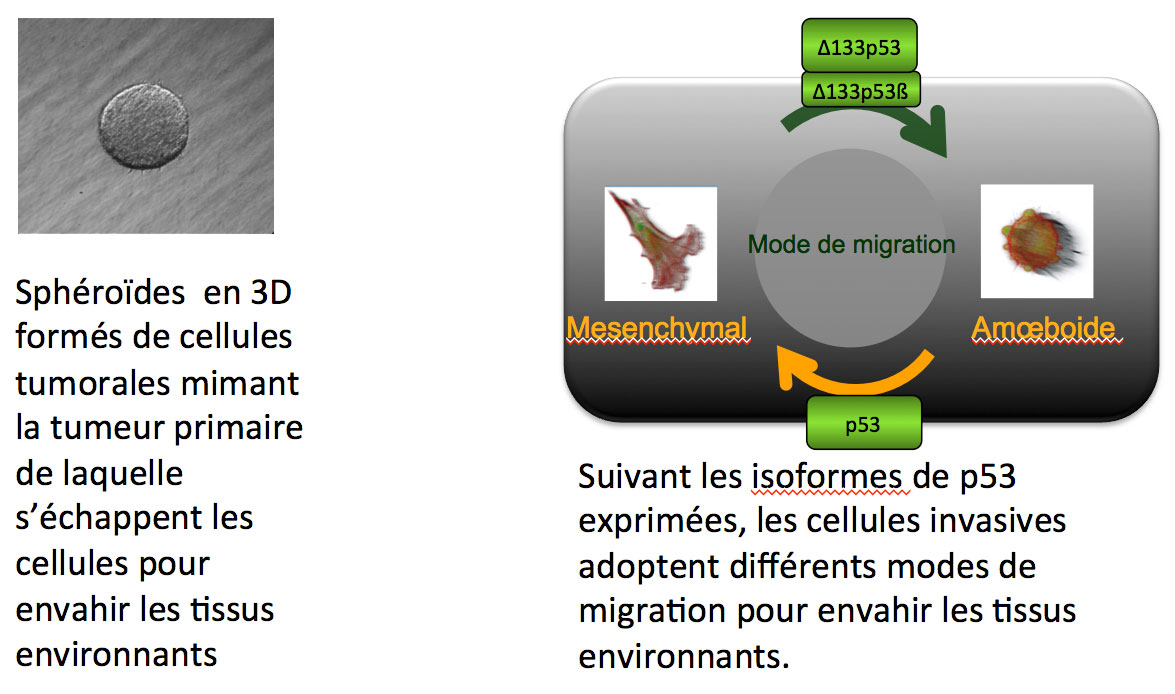 In multicellular organisms, cells move, and they do it in a specific manner. This fundamental process obeys strict regulations that are essential for the proper occurrence of specific life features, for example embryonic development or activation of the immune defences. Dysregulated cell migration can cause major problems, such as metastasis formation, the process during which cancer cells from a primary tumour disseminate to other body sites, ultimately resulting in the patient's death. Understanding how cancer cells become invasive and identifying the molecular processes that regulate their abnormal migration are crucial biological issues and constitute our area of research.
The p53 tumour suppressor is the most commonly mutated gene in human tumours and has attracted much attention since its discovery in 1979. Our studies are focused on the mechanisms used by tumour cells to inactivate p53 function. Despite the immense prevalence of p53 mutations in human tumours, p53 gene mutation status cannot precisely explain the acquisition of an invasive phenotype. Indeed, numerous clinical data show that p53 mutation status cannot be used as a prognostic marker of tumour progression. This suggests that mechanisms other than mutations are involved in the inhibition of p53 tumour suppressor function.
One of these mechanisms is the production of p53 variant proteins (isoforms) by alternative splicing of the gene, a process that controls the presence or absence of several p53 domains in the protein. Our team studies the p53 isoforms produced by cancer cells, the underlying molecular mechanisms of their formation and their consequences on metastatic invasion.
We analyse the role of p53 isoforms in cellular processes associated with tumour invasion: mode of migration, cellular senescence and tumour stem cell formation. A major objective is to determine whether specific isoforms are associated with tumour aggressiveness and may constitute novel therapeutic targets. In this context, we are currently identifying the cellular pathways that activate the expression of p53 isoforms during cancer invasion. We also try decoding the mechanisms by which these isoforms control cancer cell invasion through the identification of their partners and their targets.
Our in vivo studies are carried out in cells grown in 2D and also 3D culture systems that best recapitulate the tissue physiological conditions. We combine cell analysis techniques (live cell imaging, stem cell potential, mouse xenografts), human tumour sample analysis and high throughput proteomic and transcriptomic analyses.
Financements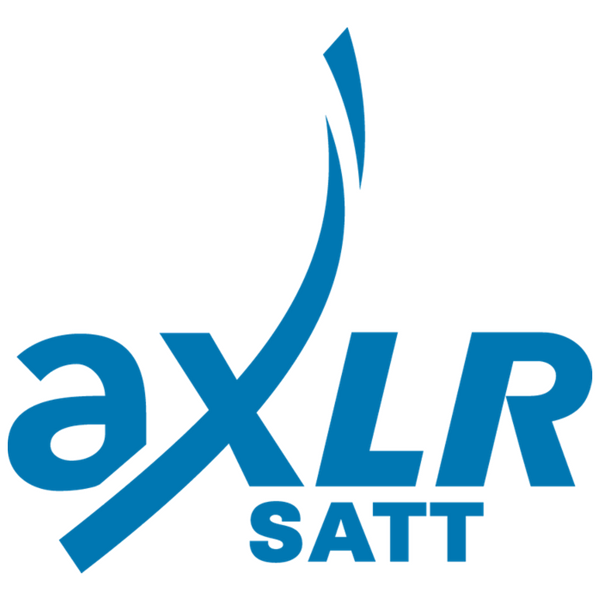 Publications
2022
2021
2019
2018
2017
2016
2015
2014
2013
2012
2011
2010
2009
2008
Team R&D : Dynamics of cell invasion in cancer

Pierre ROUX
Chef d'équipe (Chercheur DR2)
Nikola ARSIC
(IR-Recherche) +33 (0)4 34 35 95 12
Veronique GIRE
(CRCN) +33 (0)4 34 35 95 13
Pierre ROUX Chef d'équipe
(Chercheur DR2) +33 (0)4 34 35 95 12
Contact our team
Remplacez le nom et l'adresse ci-dessus par celui du membre à contacter
prenom.nom@crbm.cnrs.fr