During cell division, chromosomes are faithfully duplicated and segregated, so that one copy of each chromosome can be inherited by the two daughter cells, which must carry identical genetic information. The fidelity of chromosome transmission has important medical implications. For example, aberrant chromosome numbers in eggs or sperms generate embryos that undergo spontaneous miscarriage or that have severe pathologies, such as the Down syndrome. Inaccurate genome partitioning during any of the millions of cell divisions taking place in our body can lead to tumour development.
Our laboratory studies the surveillance mechanisms that act during mitosis to ensure proper genome partitioning, using the budding yeast Saccharomyces cerevisiae as a model organism. Particularly, we focus on two aspects of mitosis that are crucial for preventing aneuploidy formation:
how faithful chromosome segregation is overseen by the spindle assembly checkpoint (SAC) that monitors the correct attachment of chromosomes to the mitotic spindle;
how mitotic exit and cytokinesis are regulated to preserve genome stability.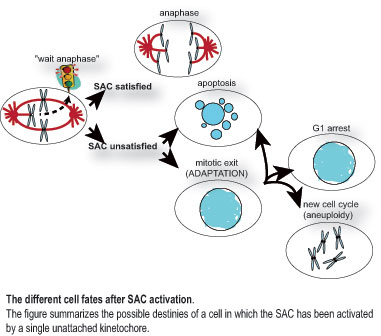 Mechanisms sustaining the Spindle Assembly Checkpoint (SAC)
The SAC prevents anaphase when errors occur during the bi-orientation of chromosomes on the mitotic spindle. By delaying sister chromatid separation and mitotic exit, the SAC gives to the cell the time necessary to establish the appropriate connections between kinetochores and microtubules, thus ensuring balanced chromosome partitioning. Once all chromosomes are bi-oriented, the SAC is turned off, allowing anaphase to take place.
Despite its importance, SAC-induced cell cycle arrest is transient. Moreover, if the SAC remains activated for a prolonged time, cells will escape mitotic arrest and adapt, through a process known as "mitotic slippage". Mitotic slippage is thought to be a major cause of resistance of cancer cells to chemotherapeutic compounds that interfere with microtubule dynamics.
Despite the profound implications of mitotic slippage for human health, the factors influencing its speed and efficiency are largely unknown. In our laboratory we use genetic screens to identify novel genes involved in this process and to characterize the molecular mechanism(s) through which they control slippage.
Regulation of septin dynamics during cytokinesis
Growing evidence indicates that polyploid cells are genetically unstable and frequently undergo chromosome missegregation and aneuploidy, eventually leading to cancer development. Cytokinesis failure is a common mechanism leading to polyploidy.
In many animal cells and fungi, cytokinesis requires septins and a contractile actomyosin ring. In yeast, septins form a ring at the division site throughout most the cell cycle. However, the septin ring dynamics changes during the cell cycle. Particularly, just prior to cytokinesis, a spectacular remodelling of the septin ring occurs. This involves its splitting in two separate rings that sandwich the constricting actomyosin ring. Our laboratory is trying to identify and characterize, through genetic and proteomic approaches, the molecular determinants that mediate the septin ring dynamic transitions during the cell cycle.

Funding
FRM (Simonetta Piatti)
ANR SEPTORG (Simonetta Piatti)                  

Publications
2021
2020
2019
2018
2017
2016
2015
2013
2012
2011
2010
2009
2008
Mitotic regulation of chromosome partitioning and cell division

Simonetta PIATTI
Group Leader (Research Director DR1)
Alain DEVAULT
(CRCN) +33 (0)4 34 35 95 46
Rekia HOCINI
(Doctorant) +33 (0)4 34 35 95 45
Sandy IBANES
(IE-Recherche) (+33) 04 34 35 95 45
Romane MARCHAL
(Stagiaire) +33 (0)4 34 35 95 46
Sotiria MESSARITAKI
(Doctorant) +33 (0)4 34 35 95 45
Simonetta PIATTI Chef d'équipe
(Chercheur DR1) +33 (0)4 34 35 95 46
Maritzaïda VARELA SALGADO
(Post-Doc) +33 (0)4 34 35 95 45
Contact us
Replace the name and address below with that of the member to contact
firstname.name@crbm.cnrs.fr